Department News 2019-2020
CONFERENCES / WORKSHOPS/SEMINARS CONDUCTED
Webinar Series through Google Meet :
Talk #1: 26th May 2020:  Mr. Aravind K , Assistant Professor, SB College Changanasserry on 'The Beauty of the Quantum World"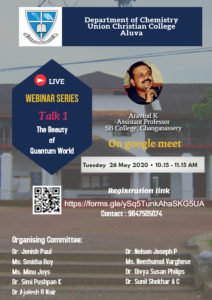 Talk #2: 28th May 2020: Dr. Prasanth Raghavn, Professor, Department of Polymer Science and Rubber Technology, CUSAT on " Nobel Laurate Materials: A great History in Science"
DBT Star Sponsored Centenary Lecture Series: 28th January 2020: Organic Porous Two Dimensional Polymers for Catalytic and Energy Applications by Dr. Santhosh Babu Sukumaran
06th  February, 2020: Prof. T.R. Anantharaman Memorial & Dr. A.M. Chacko Endowment National Seminar at T.B. Ninan Hall.
                    T.R. Anantharaman Memorial lecture on "Spectroscopy and Microscopy of Surfaces" delivered by Dr. C P Vinod, PrincipalScientist and Associate Professor (AcSIR), Catalysis and Inorganic Chemistry Division, CSIR-NCL Pune.
Dr. A.M. Chacko Memorial Lecture delivered on "Batteries on Fire- Chemistry Nobel Honours the World" by Dr. Prasanth Raghavn, Professor, Department of Polymer Science and Rubber Technology, CUSAT
 Department of Higher Secondary Education, Department of Collegiate Education and Samagra Shiksha, Keralam, Chemistry Department of Union Christian College, Aluva was selected as one of the centers in Ernakulam district for conducting the prestigious program "SASTHRAPADHAM" the year 2020. This is the second consecutive year that our college has been selected as a centre for conducting the prestigious programme. 60 Students from government and aided schools who are studying in the 11th standard and those who have an interest in science have been selected for this program. The program schedule was a span of three days, namely 01st -03rd February, 2020. Dr. SimiPushpan K was selected as the Ernakulam District coordinator and Program Coordinator for Sasthrapadham Program atUnion Christian College.
Interschool Quiz Competition was conducted on 01 February 2020.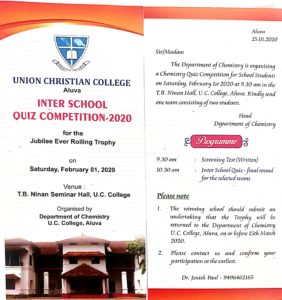 STATE INSTITUTE OF EDUCATIONAL TECHNOLOGY (SIET) and Kerala Public Education Department together sponsored Science Enrichment Program – SASTHRA JAALAKAM 2019 was hosted by Chemistry Department, Union Christian College  and conducted the Science Enrichment Program for High school level Govt /Aided students named " SASTHRA JAALAKAM " (ശാസ്ത്ര ജാലകം പദ്ധതി ), a  Three Days Residential Camp ( District Level ) camp which is a   Basic Science Awareness Program for the 57 elected IX Standard   Govt / Aided school students of Ernakulam District on   28th November,  29th November  and 30th November 2019
28th November 2019: Science Lecture  on the topic "Cancer Diagnosis and Treatment Using Radiopharmaceuticals" by Dr.M R A Pillai, Group Director, Molecular Group of Companies