Sasthrajaalakam 2019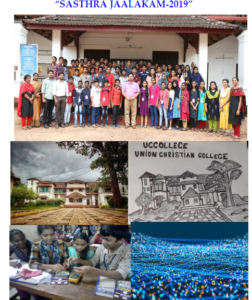 SASTHRAJAALAKAM
State Institute of Educational Technology (SIET) Kerala is an autonomous institution working as a part of General education department, Government of Kerala. SIET Kerala is the one among the other seven SIETs in the country. Department of education, Ministry of Human Resource, Government of India sanctioned the SIET for Kerala in the year 1998 and started functioning in 1999.
Public Education Department under the guidance of State Institute of Educational Technology (SIET), Kerala is conducting a state level program called "SASTHRA JAALAKAM" for school students in order to inculcate scientific temper and to increase their proficiency in scientific knowledge.
            Union Christian College, Aluva is the only selected centre in Ernakulam district for conducting the prestigious flagship program "SASTHRA JAALAKAM" for the year 2019. This is the second consecutive year, our institution was selected for conducting this program for 9th students from government and aided schools of Ernakulam district, especially those who have interest in science have been selected for this program. The program schedule was a span of three days, namely 28th -30th November, 2019. Lectures and demonstrations based on various topics in Physics, Chemistry and Life sciences were conducted by the experts in this area during this workshop.
Dr. Simi Pushpan K
(Program Coordinator, SASTHRA JAALAKAM)
STATE INSTITUTE OF EDUCATIONAL TECHNOLOGY (SIET)
Science Enrichment Program – SASTHRA JAALAKAM
Title of the Programme: Science Enrichment Program for High school level Govt /Aided students named " SASTHRA JAALAKAM " (ശാസ്ത്ര ജാലകം പദ്ധതി )
Sasthra Jaalakam – Three Days Residential Camp ( District Level )
Subject areas covered:  Basic Science Awareness Program for the High School level Students
Description of Activity: We conducted   the   Science Enrichment Program for the selected 9 th Standard   Govt / Aided school students in each district.
Days – 3 Days (Residential)
Programme period:    28th – 30th November 2019
Days – Thursday, Friday and Saturday
Number of Participant – 57 (Students selected by State Institute of Education Technology (SIET), Education Department, Govt of Kerala.)
The topic of the program session
Classes of   fundamentals of basic Science and its application in subject of Physics, Chemistry and Biology
List of Topic for Lecturing
Topic of General Physics
Motion, Energy, Gravitation, Optics, Heat, Electricity and Magnetism etc.
Applied Physics
Electronics, Photonics, Photovoltaic, Superconductors, Nano technology, Laser & Radiation Physics, Nuclear Energy (Connected to daily life – Plus two level) etc.
Topic of General Chemistry
Atomic Structure, Electrochemistry, Thermochemistry, Chemical Bonding, Periodic tables
Molecular Structure
Applied Chemistry
Analytical Chemistry, Industrial Chemistry, Biochemistry, Geochemistry, Radiochemistry
General Biology
Evolution, Metabolism, Ecosystem, Cell structure and function, Photosynthesis etc.
Applied Biology
Genetics, Microbiology, Biotechnology, Bionics, Molecular Biology etc.
Hands on experience of various science experiments instructed by the Faculty, Ph.D Research Scholars, P G Students (6-8 General science experiments in each subject) – 6-8 number of school students in each group
PROGRAM REPORT
In association with General Education Department and State Institute for Educational Technology (SIET), Union Christian College, Aluva successfully organized a three day Science Residential Camp named "Sasthrajaalakam", in the college campus. The event was coordinated under the directions of college IQAC. The program brought together over nine speakers and 57 school students participated in the program.  The students from 9th standard from different schools of our district attended the program in which they had a wonderful opportunity to learn from eminent personalities and explored the lab sessions. The camp was envisaged to develop the scientific aptitude of students and to motivate them for pursuing higher studies and career in pure science.
The program that was held in collaboration with four departments (Physics, Chemistry, Zoology and Botany) of our college and was comprised of science lectures, presentations and open discussions which allowed the participants to enter into practical discussions.